I love Crystal Paine's courses, she has been a favorite for a very long time, and I have no doubt I will love this one just as much. But before I have even looked at it I wanted to share so you can get in on the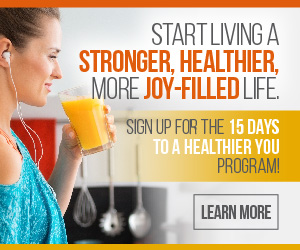 crazy price of $5, which happens through Wednesday only.
Yes, you read that right. Just $5!
The price will never be this low again, so you won't want to miss out on this deal!
After Wed, the price goes up to $10. And then on Friday, the price bumps up to the regular price of $15.
Need some extra help to get out of the habit of putting yourself on the bottom of your to-do list? Believe me. I get it. Prioritizing your health in the day-to-day busyness of life can be really difficult.
But it doesn't have to be!
If you're looking for some help with prioritizing your health so you can live a happier, healthier, more joy-filled life, I highly recommend checking out Crystal Paine's new course, 15 Days to a Healthier You.
In this course, Crystal shares all of her proven strategies that have helped her rebuild her own health! After making some life-altering changes in her self-care regimen, Crystal found herself recharged and refueled in a way she never thought possible.
And because these changes made such an enormous impact on her personal life, she decided to compile all of her tips and strategies into a full-length 15-day course to help those of us who want to overhaul our health and grab ahold of that vibrant, healthy life we're all dreaming of.
When you purchase this 15-day course, you'll get immediate access to …
15 daily videos lessons — one for each day of the course.
Daily projects to help you on your own journey to live a healthier life.
Some of my favorite recommended resources (links, books, podcasts) to go along with each day's lesson.
A PDF workbook including the entire course lessons that you can download and print.
Access to the 15 Days to a Healthier You Facebook group!
BONUS access to the original 15 Days to a Healthier You video series!
Get the help you need to live a stronger, healthier, more joy-filled life today by signing up for 15 Days to a Healthier You today!
Sign up here —> https://products.crystalpaine.com/15DHY/ref/88/
(yes aff link)
Here's to your health!