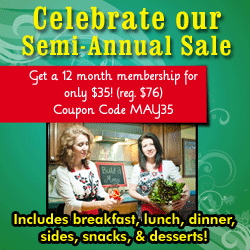 Everybody loves Trim Healthy Mama! Well nearly everyone. But sometimes it is a bit overwhelming to figure out. So I have help for you, and a coupon code!  Build a menu, does exactly that, it helps you build a menu. And it helps you stay on track, and it figures out things that are hard to figure out.
You know those days where you just throw up your hands and revert back to old eating habits? Well,  Build a Menu, does away with those days.
I know I personally get in a rut with one thing then I get bored with it and don't have time to think of another thing and end up skipping meals. And for me that is bad really bad. So build a menu is wonderful. Whether I do the whole weeks menu or just go to it to get an idea for one meal.
I keep a pretty stocked pantry, so I can just check in and find something different at any time,  but of you don't keep a stocked pantry that is ok, because they help you shop for the week too. I love, love, LOVE Build a Menu!! And right now their memberships are on sale. Go to the site http://www.buildamenu.com/share/3333  and use the code May35.
Then come back and tell me what your making for supper tonight 🙂  .