Ok,   Here we go again, everybody's favorite and I love to give y'all what you like the best sooooo  How about a double gift giveaway?  The winner will receive the October Flexi clip of the month pictured in the banner here, or their choice of any flexi I might have in stock at the moment.  I have lots of pictures of how great Flexi Clips and other Lilla Rose products work at my  Lilla Rose facebook page here  … AND ….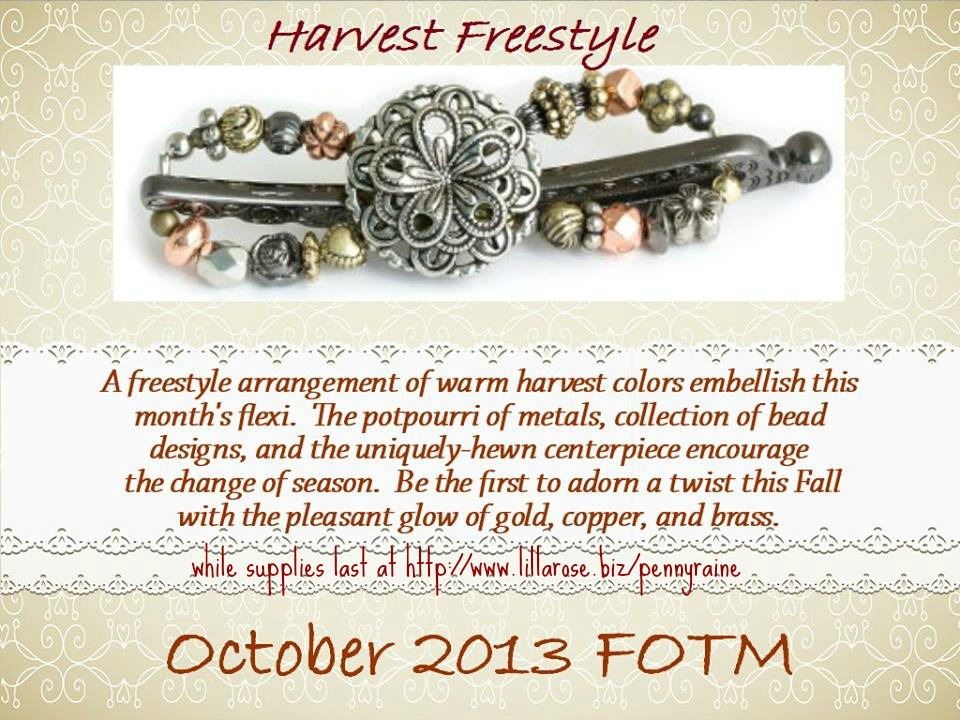 if we get to 1000 entries I will sweeten the giveaway with an extra matching size small or mini for a perfect

Mommy and me

matching pair.
And …
If you are a new Lilla Rose customer and you purchase 3 Flexi clips I will give you a coupon for a 4th FREE!  (must be purchased at one time)
there are several ways to enter, and 10  BONUS ENTRIES IF YOU PURCHASE ANYTHING FROM MY BOOKSTORE anytime in October
And… there are so many to choose from at  http://lillarose.biz/pennyraine       SO………..
How about not one but TWO prizes? How about this beautiful hair clip, the best hairclips are Flexi clips, in my opinion, AND one of my ebook packages?
Yep you will get this clip, which is a limited edition, only available for a short time, in a size medium. Flexi clips are Lilla Rose products, along with several other great hair accessories available at  http://lillarose.biz/pennyraine  yep I am a consultant, I love them that much! I can help you out if you are looking for some extra income and want to be a consultant too, if you enroll as a consultant with me during October you can still enter this giveaway.
In addition to this great and wonderful and unique clip, (maybe even 2 clips) the winner will also receive, 5 ebooks from my BOOKSTORE , their choice 

since I will be mailing the Flexi clip, US addresses only for that please, the ebooks can be downloaded
so sorry but this giveaway is not open to fellow Lilla Rose consultants this month