As part of my Natural Motherhood week, I have another giveaway for you. One of the required options to enter is to check out the Natural Mothering bundle and tell me which book you like best, you can see the list here, purchase is NOT required.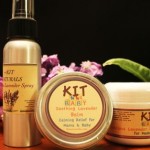 NEWS FLASH !!!    My dear friend Kathleen from Kit Naturals is such a blessing to me. And it blesses me to bless you, so here goes. She has given me permission to offer this whole package here AGAIN!!
Well by now you have probably heard that we have not one but TWO new granddaughters! No, not twins, they are actually 3 weeks apart and from two different daughters. Life is truly grand and I am loving it

.  Awhile back Kathleen from Kit Naturals sent me some of her wonderful new baby cream to try out on these sweet girls. Well since both of them took their sweet time getting here we really did take our time getting to this review. I could have told you of course that we would love them, but now I have experienced Mommas saying, "I LOVE IT" .  Baby skin has got to be the sweetest thing in the world anyway, and this new cream makes it even sweeter. I dare say I used a little on myself, and it is equally good for grandmas.
Sooo…. time for another great giveaway from my dear friends at Kit Naturals. If you have a baby or know someone with a baby enter and win it for them, or of course use it on yourself. I might add it makes a wonderful shower gift.  I am going to keep this open until June 23 ,  and choose a winner the next morning.
I love anything from Kit Naturals, no joke, I have not tried anything from  them I didn't love, and I am not a big beauty product person anymore, but their stuff is wonderful.
I like this every bit as much as the Orange Cream, do you remember me talking about it?
In case you missed my review awhile back I will quote it for you here.
A few weeks ago I got the most wonderful gift in the mail from my dear friend Kathleen Gilmore. Something from her new home business

Kit Naturals

. It was some of her

Orange Silk Cream

, I agreed to try it out and give her my opinion. now Kathleen has known me for awhile so she knew I only tell the truth and never hype things up. However I do get excited about stuff that is really good. Well let me tell you, this stuff is good. In fact it is better than good. I can't decide if I like the smell or feel of it better. I truly wish I could create a "smell button" to let you smell this online. In the winter especially I tend to get really dry skin. Especially my hands. The first time I applied the cream I thought, hmm, nice but might be a little oily feeling, to be honest I probably used too much because it felt so good, but either way after about a minute it was all absorbed anyway. It felt really, really good and there was no left over oily feeling. And it has really helped where I had dry skin. I had to nearly arm wrestle it away from daughters, ha ha, but Momma always wins! Kathleen my dear you have done well! The only way she could possibly make this better is to sell it in gallon sized jugs! But since no one really ever needs to use that much I will just learn a little self control. I honestly can not say I have ever found a cream I like better. Since I used to own high end beauty salons in California that is my educated opinion. I pray that the Lord blesses Kit Naturals, and the Gilmore family abundantly! I might also add that their

website

is absolutely beautiful!
This is how you can win, follow all the options in the widget below. The comments must be added here to get you in for the drawing.
Kathleen has graciously allowed me to offer this open to everyone! Yep, where ever you live, if you win she will ship it to you, now folks tell me how often that happens?
disclaimer~ I am a pro blogger, I may have been offered free products to try but my opinions are ALWAYS my own, anything you click on from my blog should and probably does benefit me in some way. I always aim for you to get an even bigger blessing in the way of freebies and giveaways

.