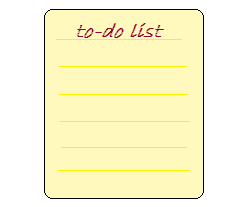 You know before God created anything He had a plan. There was no chaos, or big bang. There was a plan and a purpose. I have found that creating family peace is much the same. With a God given plan and purpose things proceed much smoother. Even though God does not operate by our calendar, our method of time is still a good way to plan. It seems for our family anyway that the end of the year is about the time that our plan and purpose needs re-establishing. In the interest of law and order, God's not ours, I suggest we start early. It seems that if we already have our plan in place before the new year then it is easier to implement. So … how about some to do list suggestions?
Here is my list, feel free to use it as your starting point. We have had a whole lot of changes in our family life the past year, not only did two daughters get married but the two young men that were constant (and welcome) visitors have ceased to visit every day. They now get their home cooked meals with their new wives

. So, that makes our rather busy household a whole lot quieter and less busy. We needed to reorganize everything from chore lists to the grocery lists. Everyone is now settling in although it is still very strange.  So onto my list suggestions.
Family Mission Statement  – if you don't have one, pray and make one, if you do have one, see if it needs adding to, or revising.
Daily prayer lists – family, friends, missionaries, needs, thanks
Children character lessons and goals
Monthly Goals – use a calendar
Family Calendar – birthdays, vacations etc.
Financial plan – budget, plan or whatever you want to call it
Education goals – homeschooling or extra curricular
Inventory lists- pantry, cleaning and paper goods, clothing
Projects – scrapbooking, sewing and so on
Writing Schedule- blogs and such