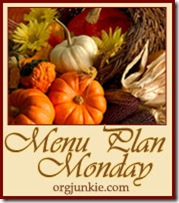 For my Menu Plan Monday post November
Fun week ahead, Thanksgiving feast Thursday and we do it big! I have some giveaways planned for this week and a big BLACK FRIDAY SURPRISE!
I have lots more recipes posted at my recipe site .
Monday- beef stew, boy is this yummy! and homemade bread 
Tuesday- jalapeno chicken and rice and salsa
Wednesday-  meatloaf and homemade bread
Thursday-  turkey, stuffing, mashed potatoes, gravy, homemade bread, veggies, sweet potatoes and lots of pies!
Friday – yummy leftovers
Saturday – easy chili for a crowd and cornbread
have a blessed week!