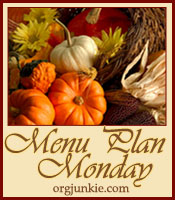 For my Menu Plan Monday post November 22
I have lots more recipes posted at my recipe site . I will be posting several of our thanksgiving meal recipes this week.
Well things are gearing up for winter. Colder weather coming this week.
Planning a big Black Friday Sale in my bookstore and still trying to figure out what to do for thanksgiving.
Monday-   breaded chicken breasts and biscuits
Tuesday- creamy cheesy potato and broccoli soup
Wednesday- southern chicken and dumplins
Thursday- gobble gobble gobble
Friday – hhmm, more gobble gobble
Saturday – turkey casserole

I just might add our Thanksgiving menu on Thursday.