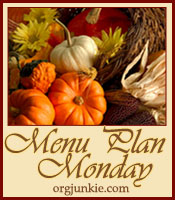 For my Menu Plan Monday post November 29
I have lots more recipes posted at my recipe site . I am adding some of these today, if you don't see it yet please check back later.
Still having a big Black Friday/Cyber Monday Sale in my bookstore and a huge cookbook sale.
Monday-   fiesta bean dip and homemade tortilla chips
Tuesday- creamy cheesy potato and broccoli soup
Wednesday- spaghetti feast
Thursday- breaded bbq chicken breasts and rice
Friday – chili for a crowd
Saturday – baked potato feast