Big families are fun, lots of fun. Most every day is like some sort of party at my house. But just like having several children causes you to more fully rely on the Lord, having a big family also causes you to learn order. Order is a good thing. Remember everything God has ever created has been orderly, and with a purpose. Our families cannot run joyfully without order and purpose. If you haven't yet figured out how that works, this ought to help.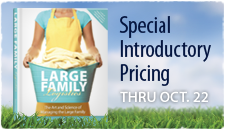 Large Family Logistics: The Art and Science of Managing a Large Family
Like many wives and mothers, author Kim Brenneman didn't start out with all of the answers. She struggled to figure out: What do I do next? What's the best way to actually do the many things that need to be done? And how do I get everything accomplished in a 24-hour day and keep my sanity?
Moms have many tasks to tackle and obstacles to overcome: the laundry monster, household clutter and cleaning needs, caring for babies and little ones, menu planning and mealtime routines, town outings, homeschooling, bill paying—and even more!