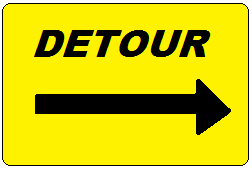 Wouldn't it be great if God put a huge neon sign in front of us that said DANGER DETOUR AHEAD every time we thought about straying off the straight and narrow path? In a way He does, but it is in the form of the Holy Ghost inside us. Problem is many folks ignore Him, and His nudging.
The other day we were driving to the park for a picnic and decided to take a short cut we often take. Last time we went down that road they were doing roadwork and so had a mandatory detour. So figuring I knew where the detour was going to take us I directed a right turn. Problem was that they had moved farther an down the road and moved the blocked off section. So the detour route was different. We could have gotten completely lost if we hadn't been in familiar territory. That is the problem with detours, they can sometimes get you really lost.
The straight and narrow path of God has no sinkholes or places that need new pavement or repair, so there are no mandatory detours. Only the ones we ourselves get sidetracked with. His road is safe, as I shared with a confused woman the other day, keep your eyes focused on the very middle of His road, don't even look to what is on the right or the left. Don't risk getting lost.
Enter through the narrow gate. For wide is the gate and broad is the road that leads to destruction, and many enter through it. But small is the gate and narrow the road that leads to life, and only a few find it.

Matthew 7:13-14