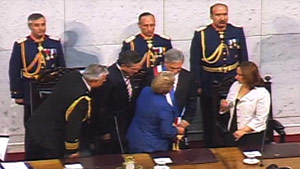 Television footage showed Sebastian Pinera's presidential inauguration proceeding without a hitch.
Santiago, Chile (CNN) — Three strong earthquakes rocked Chile on Thursday morning, just as the country was swearing in a new president.

A 7.2-magnitude earthquake hit at 11:39 a.m. local time (9:39 a.m. ET), followed by a 6.9-magnitude quake 16 minutes later, the U.S. Geological Survey reported. A third, measured at magnitude 6.0, came 27 minutes later.

They were the strongest aftershocks to rattle Chile since a February 27 earthquake on the country's west coast that toppled buildings and spawned a tsunami, killing several hundred people.

The first quake Thursday shook the ground near Libertador General Bernardo O'Higgins, near the Chilean coast, just as Chile prepared to inaugurate a new president, Sebastian Pinera.

The epicenter was about 95 miles (152 km) south-southwest of the capital, Santiago, and about 90 miles (145 km) away from Valparaiso, where Pinera was to be inaugurated. Television footage showed the inauguration proceeding without a hitch.

A second earthquake — with an initial magnitude of 6.9 — struck moments later. It was about 89 miles (143 km) southwest of Santiago, the USGS said. The third was about 86 miles (138 km) southwest of Santiago. ……. read more here
I am a busy busy Momma and other than knowing where Chile is I don't keep up on things too well. I am so busy with the trees that I don't often take a look at the whole forest, lol. But I have heard that there have been earthquakes, BIG earthquakes. And since I am from So Cal originally I know how scary an earthquake can be. The only good thing about an eauthquake is that they are usually over before you know what hit you. Unlike a tornado. Either way I am fascinated by the power of God in His creation. I don't think most folks take Him serious enough. So when I heard this morning that there were 3, yes count them 3 sizeable eathquakes DURING the swearing in of the new president of Chile I took notice. Is this new president a good guy or a bad guy? I don't know but I can guarantee you God Himself is up to something, and He is getting the world's attention. I think we need to check out what exactly He is doing in Chile and seek His direction in prayer. We as mankind are all in this together and what our right toe is doing affects how we walk. So even though Chile is a long ways from Middle TN and even though I am more focused on my daffodils that are about to bloom you better believe that I will be spending some time today studying up what is going on in Chile.
Did you know that the big earthquake that hit in Chile last month moved the location of cities? Now that is worth looking into.
The February 27 earthquake was violent enough to move the Chilean city of Concepcion at least 10 feet to the west and Santiago about 11 inches to the west-southwest, researchers said.