Dearest Friends, not only do I have a freebie for you today, but it is a yummy one! I will keep this up for the whole holiday weekend.
 Please also check out my 

How to Make a Homemade Ice Cream Cake (Creatively Simple)
 which is free on Amazon through the 3rd.  and please, pretty please, if you love it, leave me a review 🙂 and tell your friends!
Now for the bookstore freebie ….
are you ready?
now if you use wholesome ingredients you can get away with this even if you are trying to lose weight
it also helps if you don't overindulge, but hey, I know how that goes 🙂
ok, here you go …
Creatively Simple – How to Make Homemade Ice Cream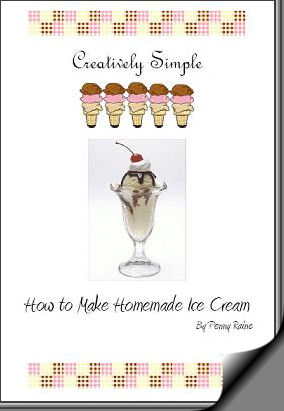 Nothing says fun in summer like homemade ice cream. There are a thousand ways to make homemade ice cream but this is the technique we have settled on. It is rich and satisfying. You can add in any flavor and have ice cream as great as any high priced gourmet ice cream store right at home! When you make it yourself you know exactly what is in it, and it becomes a healthy treat rather than just cold junk food. There is just one requirement to making homemade ice cream, you have to have fun! not just a recipe, but a very detailed How To ebook with step by step instructions and lots of pictures.
This is just one of a series of Creatively Simple "How to" ebooks approx 23 pages with lots of pictures ebook download
Price: $4.95
Price: $4.95, but ….. free today!