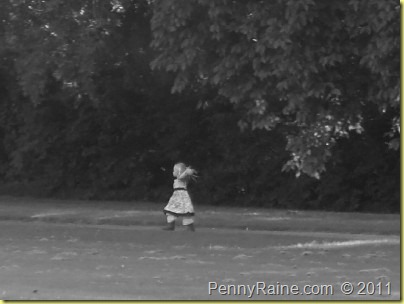 I can do everything through him who gives me strength.  ~ Philippians 4:13
I love my daughters' attitudes. We often go for a picnic at the park on Sundays after church. It has been too hot lately and we had gotten out of the habit but someone suggested it last Sunday. Trouble is that they suggested it 30 minutes before we had to leave. Now planning a picnic for 11 spur o de moment is no small feet. But they rallied and did it. And they got ready for church and we left in time. We had everything to grill hamburgers and hot dogs, homemade pasta salad, fresh tomatoes and onions and peppers from the garden, sweet tea, and homemade cookies. With the Lord leading we can do anything. We had a great time of fellowship, and my dear son in law even provided the lawn games. Homemade Bocce Ball, compliments of the "brains" found on the Osage Orange trees. Bumping brains should be the new name for the game, it provided lots of laughs. Life with Jesus and family is lots of fun.
be blessed on this beautiful day!
The purpose of Word filled Wednesday is to share God's word (no famous quotes or other literature — only the beautiful word of our Father) through photo's & a Bible verse! You can join myself and others at the Internet Cafe Devotions !