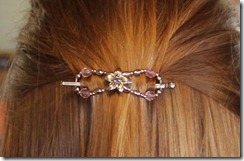 with 5 daughters I can tell you a lot about girls hair

  and since they are active girls and all have long hair I can tell you that all hair clips were not created equal, in fact it is very hard to find a good one, but alas I have found the best! my friend Marci from over at Amazing Graze Farm asked me if I wanted to review and give away a flexi clip … my first question was, "what is a flexi clip? Now I know. It is something we cannot live without. I got one for my daughter with the thickest waist length hair. It works!!!! Yay!! And it feels good, AND it holds, AND it has been over a month and it hasn't broken! Now that is big news. It also is very nice looking and now I need one for each girl

Of course we got the one with a horse, but we really like all of them. Which is your favorite?
They come in different sizes and even having styling videos and a video to help you choose the right size. AND thanks to Marci I get to give one away!!!
Here is how it works, open to US addresses, if you have never won a Lilla Rose giveaway, you can win a certificate for a free flexi clip of your choice, if you have won before you can win one subject to Marci's available stock on hand
Giveaway will end Saturday October 6th at midnight.
disclaimer – "Independent Consultant Marci Blubaugh" is sponsoring the giveaway, in order to be in compliance with company policy. She did provide me with a clip to review however as always my opinions are my own

So, how to get in the running for this wonderful prize? First take a look at the site here and tell in a comment which Flexi clip you would choose.
You can also get extra entries this way. Enter each in a separate comment.
One for watching the sizing video.
like the facebook page
connect on twitter
you can get an extra entry if you subscribe to my bookstore mailing list on the  front page
you can get an extra entry if you subscribe in a reader to my blog    Subscribe in a reader
you can get an extra entry if you follow me on twitter and tweet this contest
you can get an extra entry if you befriend me on facebook and share about this contest
you can get an extra entry if you blog about this contest on your blog and tell me about it with the url
you can get an extra entry if you use the "share this" button below, and comment telling me where you shared