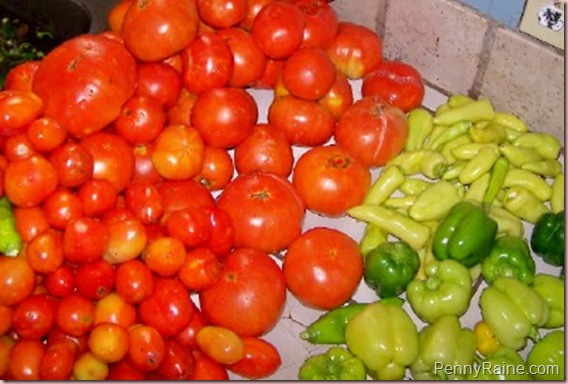 For the last several days I have been weedwacking, and weedwacking and more weedwacking. We were headed for a serious drought and middle TN was looking like a desert then all of a sudden we got rain, for days, then more rain off and on, then more sun, then more rain. Needless to say what was a desert is now a jungle. It is perfectly normal around here to have to mow about every 5 days. But it was too wet, and now it is absolutely insane. We have several acres around the house that is fenced off from the pasture and it looks beautiful when mowed but can easily get out of hand if ignored. However the yard is not the biggest challenge. We also have a 1/2 acre vegetable garden, we work it with the tractor before planting and then plant in raised rows. We use shavings and straw between the rows and that usually works well until about the last month of summer. If weeds start sprouting we go around it or between the rows with a weed wacker. But this year with all he rain created an overnight jungle. So for days I have been trying to get the upper hand. I spend about two hours a day on it. I am not sure if I am getting ahead or not. But I love being in the garden because the Lord speaks to me there. Want to hear what He has been saying?
A garden is a symbol of our relationship with the Lord. Adam walked with God in the garden.
In our garden there are weeds, and even some poisonous plants. There are some annoying plants with thorns but mostly things like morning glories. There are volunteer tomatoes sometimes. But the worst is the grass. Thick lush, tall grass. The same kind of stuff we bale for the horses. The same kind of stuff we pay big bucks for in the winter. The same kind of stuff we worry about when there isn't enough. The stuff any horse farm person values above many of the groceries we buy for ourselves. Wonderful wonderful, green grass. But it does not belong in my vegetable garden. It will choke out my vegetables. It will steal their water, and nutrients from the soil. It will cover my plants and make them fruitless. It is good but it does NOT BELONG in my garden! It cannot be permitted to grow in my garden no matter how "good" it is.
The Lord has been showing me that just like that grass there are lots of "good" things growing in our space that is reserved for Him and Him alone. Our days only have so many hours in them. We have to set priorities. We have to only have what HE plants in our garden. If we allows "good things" to grow in the wrong place it is no  longer good. So what can those "good things" be? Anything that distracts from the things He has told us to do with our time. He has a purpose and a plan for our days. Beware of those seemingly "good things" that leave you with no time. Time with the Lord has got to come first. Ministry to our spouse and children has got to come next. Then everything else. We cannot let "good things" choke that out. So I ask …
What is growing in your garden?
have a blessed day with our own tackles

  on Tackle It Tuesday