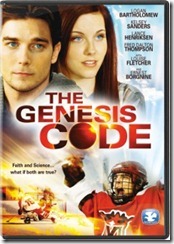 We recently had the opportunity to see this movie and I must say we enjoyed it enough to watch it more than once already! If you love movies that are family friendly, share the truth of the gospel and also address common day events or questions you will like this movie. It also confirmed why we as a family don't push for college education. It showed all the ways a young person is pulled, and pushed and coerced away from biblical truths through the whole college process. Yet it also showed how given even a sliver of an open door, the Lord will shine through. I have heard it said that in the end all questioning scientists will run into God. This movie was a wonderful example of just that. It is a great movie for believers and doubters alike. And you can win one!!! Just follow the directions below.
Website: http://www.thegenesiscodemovie.com/
Facebook: http://www.facebook.com/thegenesiscodemovie
Twitter: http://www.twitter.com/thegenesiscodemovie
Dove Foundation Review: http://www.dove.org/reviewpopup.asp?Unique_ID=8437
Trailer: http://www.youtube.com/watch?v=2p4Cs_QkwsM&feature=player_embedded
About the Movie:
Kerry Wells (Kelsey Sanders), a college journalist and committed Christian with an effervescent personality, has been assigned to do a story on Blake Truman (Logan Bartholomew) the college's newest and very popular hockey superstar. As a relationship between them begins to develop Kerry finds that Blake, who hides behind a tough and independent façade, is actually struggling through a difficult personal crisis and that he bears the cross of a secret he has kept hidden for years. Blake rebuffs Kerry's suggestion that prayer might help ease his burden; he is convinced that modern science completely disproves the Bible, especially the opening verses of Genesis. Kerry — who is herself suddenly confronted with a challenge to her faith on another front — sets out to prove that science and Genesis are not in conflict and her quest leads to a startling revelation. Could it be that what science teaches us about creation and the Story as told in Genesis are both true!
As always my opinions are my own, but here is the disclaimer anyway ..
"Disclosure of Material Connection: I received one or more of the products or services mentioned above for free in the hope that I would mention it on my blog. Regardless, I only recommend products or services I use personally and believe will be good for my readers. I am disclosing this in accordance with the Federal Trade Commission's 16 CFR, Part 255: "Guides Concerning the Use of Endorsements and Testimonials in Advertising."