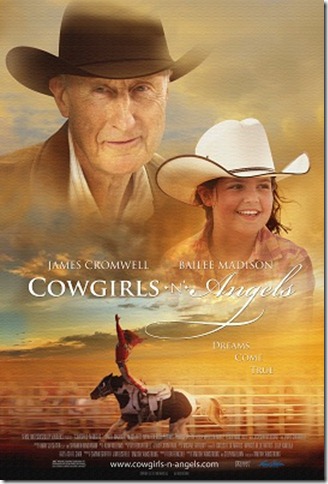 This was the THE most adorable movie I have seen in a very long time. Of course the fact that I have rodeo ridin daughters doesn't hurt, but even so, it would still be a favorite. Even though I had a sneak preview I would still like to go see it again in a theater with my girls. It is a story of hope, redemption and love. And that just happens to make up my very favorite kind of movie. Add in some horses and a little trick riding and you have what this family gives 5 stars for! The characters were believable,  even though there very obvious stunt doubles, the story line adorable, and even though Ida is a little troublemaker you cannot help but love her. The music made it seem nostalgic and cozy. Very very cute. Yep, we loved it! It opens tonight, I really encourage you to see it.
Cowgirls N' Angels
(in theaters 5/25)
Website: www.cowgirls-n-angels.com/
Trailer: http://www.youtube.com/watch?v=VOYbWF22mnE
About Cowgirls N' Angels:
Cowgirls N' Angels is a heartwarming movie that tells the story of Ida, a feisty and rebellious young girl, who has dreams of finding her father, a rodeo rider. While searching for her dad, she connects with the Sweethearts of the Rodeo, a team of young female rodeo riders run by former rodeo star Terence Parker. Recognizing Ida's innate talent for trick riding, Terence recruits her for their ranks. Accepted wholeheartedly by her new "family," Ida finds a new passion that redefines her life, and may also help her find the father she's been searching for.