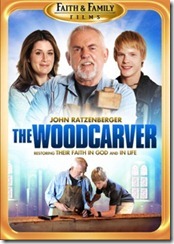 Are you ready for another great family movie? Well here we go. I was sent this for review a bit ago and I have my review and an opportunity for you to win one.
Well it was a bit slow moving but I think that was a good thing, moments would have been missed if it moved faster. It opens with a very creepy kid acting very creepy, but literally within 5 minutes you love him. I loved that part of it, I like to like the characters, I want to see the bad situation turn good and I love redemption. Needless to say it did not disappoint me. I wouldn't say it was the best movie I have ever seen but I would and will watch it again. I can't say too much more without spoiling the end, which is somewhat predictable, but I can say that the ending comes together in a way that usually is only orchestrated by God. I like that too 

.
Leave a comment and follow the directions on the rafflecopter widget below to enter.
About the Movie:
Matthew Stevenson is a troubled kid from a broken home. When he vandalizes the local church to get back at his parents, Matthew has to repair the damage to the church to avoid criminal charges. While working at the church, he meets Ernest (John Ratzenberger), an accomplished wood carver who created the intricate woodwork decoration that Matthew destroyed. Ernest has become something of a hermit, but reluctantly comes out of reclusion to help repair the church. Now Ernest and Matthew must work together to preserve the church's beautiful antiquity, and along the way, they also manage to restore their faith in God and in life.
As always my opinions are my own, but here is the disclaimer anyway ..
"Disclosure of Material Connection: I received one or more of the products or services mentioned above for free in the hope that I would mention it on my blog. Regardless, I only recommend products or services I use personally and believe will be good for my readers. I am disclosing this in accordance with the Federal Trade Commission's 16 CFR, Part 255: "Guides Concerning the Use of Endorsements and Testimonials in Advertising."