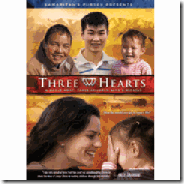 I was recently offered this movie for review and since we are blessed by just about anything associated with Franklin Graham and Samaritans Purse I was happy to take it. Of course they did not let me down. This is more of a reality show than a drama, it is VERY REAL, about 3 families with very real needs met by a very real God. It is intense and will have you praying on the edge of your seat. And it should, there are hundreds of cases just like these. If you don't think there are enough things to pray about or places to serve or needs in this world that have yet to be met, this will remind you. We are way too spoiled here in America. I think everyone should see this movie. You can win a copy below, just follow the directions

.
About Three Hearts:
A passionate team of people work to save the lives of three Mongolian children with life-threatening heart defects.
Graduating college senior, Cissie Graham Lynch, granddaughter of evangelist Billy Graham, takes on an internship at Samaritan's Purse working with the Children's Heart Project. This project is dedicated to saving the lives of children by providing medical procedures that aren't available in many countries. Cissie is charged with supervising the arrival and surgeries of three Mongolian children suffering from fatal congenital heart defects.
But the task is not easy and filled with unexpected challenges.  Cissie balances responsibilities as a newly married wife to a professional football player and her tasks with the internship.  Meanwhile the Children's Heart team turns to a Texas family who travels to Mongolia for the adventure of a lifetime to help bring the children to San Antonio for their surgeries.  In Texas, two host families make sacrifices to care for these children and their mothers, while a team of doctors and nurses volunteer their time only to stare directly into the face of life and death. How far would you go to save a life?
It's a fight for survival, a fight of faith, and a fight for a new life for these three hearts.
Three Hearts DVD
Youtube Trailer Links: http://youtu.be/sMUA8lbbkDU
Youtube Trailer Links: http://youtu.be/1aUxbJd15fk
Christian Book Distributors Link: http://www.christianbook.com/Christian/Books/product?item_no=320721
Of course y'all know my opinions are my own, but here is the disclaimer anyway.
"Disclosure of Material Connection: I received one or more of the products or services
mentioned above for free in the hope that I would mention it on my blog. Regardless, I
only recommend products or services I use personally and believe will be good for my readers.
I am disclosing this in accordance with the Federal Trade Commission's 16 CFR, Part 255:
"Guides Concerning the Use of Endorsements and Testimonials in Advertising."