Greetings to you this morning from my warm cozy kitchen. It is very cold and windy here today. We have a kitchen rocking chair right next to an antique wood burning cookstove that is mostly for looks but we do use it when it gets cold enough. That is where I am parked this morning as I organize my day and make plans to remodel the other half of the kitchen. I love this spot. It is quite cozy

.My youngest daughter just put a small pot of simmering cinnamon and cloves on the woodstove.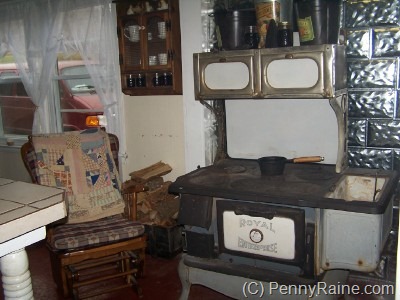 We don't really do much as far as celebrating Christmas. We celebrate Jesus everyday and that is our focus. I don't have a problem with folks who do celebrate it but since we don't I get a different point of view. I took my grandchildren and 2 of my children to the local superstore yesterday to get a couple things for a fun day at Grandmas house. We were in no hurry, and had lots of fun. It put me in a very good mood. Would you like to know why? Because I was not bound by obligations. I bought a couple things, even ventured into the toy isle because I wanted to buy my granddaughter an etch a sketch like I told her I loved when I was her age. I noticed all the folks in the toy isle were tired and weary looking. Not grouchy but just tired. This was pretty early in the day, so I bet the later crowd was tired and grouchy. But I was not. I got to buy what I wanted for who I wanted with no calendar governing my purchases. I got to do what the Lord led, just because I love someone.
I encourage you to set all man made obligations aside and just do what is motivated by His love.
Today is going to be a very wonderful day, I can feel it already.
anybody want a 40% off coupon??? here you go, add books to your cart from my

bookstore

  and use this

4023289F
AND   …  Today only, as a freebie one of my very favorites for you!
In America Christmas is one of the biggest holidays celebrated. The economy is even dependent on it. If you ask folks what the Holiday is they will tell you the celebration of Christ's birth, yet 99% of the activities have nothing to do with Jesus. There are even mock holidays now coinciding with the Christmas season so that everyone can celebrate together even if they don't want to admit Jesus exists. Christmas is an American tradition plain and simple. The month of December revolves around it. As Christians we should not get caught up in the commercialism of the event but remember that it is the one time of year more than any other when folks who are not even believers are open to hearing about Jesus. Even folks who have never submitted will get teary eyed at an inspirational movie or a beautiful manger scene. Since the Lord has truly gone before us and tenderized hearts, and opened doors this time of year it is up to us to take advantage of the opportunities. Before we can begin to share the love of Jesus with a lost and dying community we must first focus on Him ourselves. It is my prayer that with the help of this book, Christmas not only becomes a Christ honoring time of year but a fruitful one. That you are able to witness the true gifts of love and salvation in your family and community.
Over 30 pages of articles,family discussion guides, bible studies, antique pictures and activities!
Here is a sneak peek from the  Table of Contents
* Introduction * History of Christmas * No room at the Inn * Is there room in your inn? * Coloring page * Supernatural Birth of Jesus * Printable picture * Memorization project * The Greatest Gift of All Is Jesus * Tell it on the Mountain * Christmas wish list for Jesus * Make your own wish list * Word search * Fill in the blanks * Family talk and prayer * Bonus pages and answer keys
regular Price: $4.95   today FREE!!