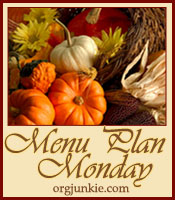 For my Menu Plan Monday post December 19.
I have lots more recipes posted at my recipe site .
We don't really celebrate Christmas, we choose to do things a bit differently and esteem Christ everyday rather than making a big deal on certain holidays, we don't mind folks who do however and think each family needs to do what they have decided is best after LOTS of prayer. We do however use any and every excuse for a big family feast!!! And we will probably have a big turkey meal on Sunday, but then again we will be having 5 big turkey meals between now and Spring. The occasion? Turkey's were on sale 🙂 hah, and it is a wonderful family thing to do in dreary or cold weather.  Family, food, and fellowship around the table works well for us.
Monday- Pizza! with red and yellow and green bell peppers
Tuesday- chile rellenos
Wednesday- creamy cheesy potato soup with homemade french bread
Thursday-  taquitos and refried beans
Friday –   more southern chicken and dumplins my favorite
Saturday –  Tamales!!!!! a Southern California Christmas Eve tradition
Sunday – Turkey dinner with all the fixins 🙂