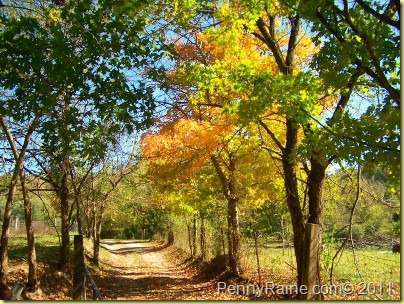 Show me your ways, LORD,
teach me your paths.  Psalm 25:4
This path may look like it leads nowhere, but it is really the drive to my house. When we give folks directions to come over, I always have to tell them to come through the gate and that they can't see the house until they get halfway up the drive. I guess they have to trust me or not come to visit. It has made more than one person nervous. But when they get here, whether to buy a horse or a barn wood table, or just to visit, they absolutely love it.
Isn't it the same with God? He sets us on a path where we cannot see the final destination. He tells us to walk His path and we have to trust Him. But oh when we get where He is directing, then there is great reward!
How do you know it is God's path? Well just as I give folks landmarks along the way, He gives us His Word. Know it and you will know His character, you will know it is His voice when you know His character.
be blessed on this incredibly beautiful day!
The purpose of Word filled Wednesday is to share God's word (no famous quotes or other literature — only the beautiful word of our Father) through photo's & a Bible verse! You can join myself and others at the Internet Cafe Devotions !