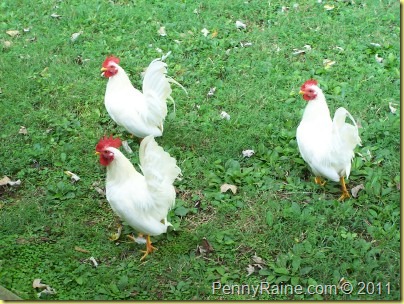 "Do not follow the crowd in doing wrong  ~ Exodus 23:2

but rather ..   It is the LORD your God you must follow, and him you must revere. Keep his commands and obey him; serve him and hold fast to him. ~ Deuteronomy 13:4
These 3 banty roosters are inseparable. The will follow each other anywhere … even into danger, turmoil and trouble.   Wow. What a picture.  And a lesson.  Dare to go against the flow.
be blessed on this incredibly beautiful day!
The purpose of Word filled Wednesday is to share God's word (no famous quotes or other literature — only the beautiful word of our Father) through photo's & a Bible verse! You can join myself and others at the Internet Cafe Devotions !