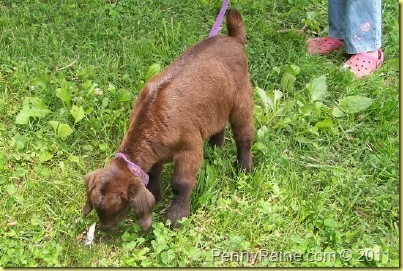 "If you remain in me and my words remain in you, ask whatever you wish, and it will be given you." John 15:7
Our children are involved in Jr Rodeo events locally and the other day one of them said, "I sure wish we had a goat to practice goat tying". Well I knew that we would somehow have one within a week, even though I had no interest in buying a goat. They didn't go on and on, and in fact no one even asked me to look for one, the only person they even mentioned it to was a neighbor and they simply asked if they had one they could borrow for a couple of weeks. Not much else was said, except I think I might have heard a prayer. And here he is, an orphaned African Boer one week old goat. At my house. Last night he was in the barn, today he is getting the tour of the farm by my youngest. Turns our our friends sold a bunch of goats and this baby was left behind, hiding behind their barn. They still can't even figure out who the momma was. They didn't want to go to the trouble of bottle feeding him so asked if we wanted him. I cannot tell you how often things work out this way. Jesus cares. He even cares about the little things. Stay focused on Him and He will let you count the ways He shows His love. If you can count that high.
be blessed on this beautiful day!
The purpose of Word filled Wednesday is to share God's word (no famous quotes or other literature — only the beautiful word of our Father) through photo's & a Bible verse! You can join myself and others at the Internet Cafe Devotions !