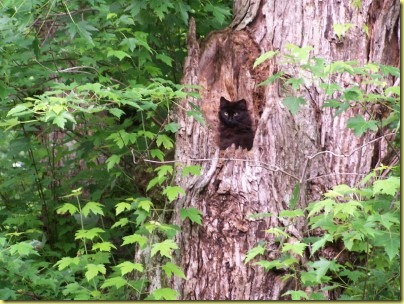 For there is nothing hidden that will not be disclosed, and nothing concealed that will not be known or brought out into the open.  ~ Luke 8:17
This is one of our little barn kitties, she doesn't even have a name because she hangs out in the barn all the time. She isn't very personable, but she sure is pretty. She has a very cute blue gray kitten that no ne even knew she had. She recently decided to move the kitten to what she thought was a safer spot, one of the nesting boxes in the hen house. Well she was found out. Then she moved it to the milking stall in the barn. She was found out again. Then she moved it here, a hollow spot in the tree outside my bedroom window. She looks almost like an owl sitting in a tree here. She finally moved it again. We keep trying to humor her and make her think that we don't know she has a kitten hidden. But the truth is that just like every sneaky thing we think we are hiding, it is usually seen by someone, and always by the Lord.
be blessed on this beautiful day!
The purpose of Word filled Wednesday is to share God's word (no famous quotes or other literature — only the beautiful word of our Father) through photo's & a Bible verse! You can join myself and others at the Internet Cafe Devotions !