Well looks like another stormy day here. The last two weeks have been a whirlwind anyway with all of these birthdays and a new grandbaby coming. Not to mention Mule Day 2011 which I still have yet to post pictures from. Add to that my serious work out schedule and the fact that my bookstore website is all out of whack, and well, things have been crazy. Oh yeah and it is spring. And we live on a farm. Need I say more, lol?
Well I forgot I was talking about storms.  We have more coming today. When a warm front meets a cold front there are usually fireworks. Kind of like when light meets darkness. I have some rather outspoken facebook friends who have been passing around this picture.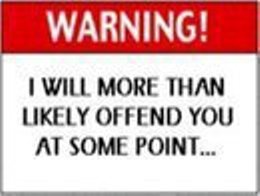 And you know what? It fits me too, I never ever intend to offend anyone and often times don't even realize I have. But I speak the words of the Lord, mostly quoting scripture and that offend the enemy. It also offends the folks who are following the enemy even if they don't know it. How can we be following the enemy if we claim to be a believer? Well His word says that rebellion is as the sin of witchcraft, so anytime we rebel against Jesus or His ways we give room to the enemy. We actually become a disciple of the sinful nature or the enemy. Satan himself quoted scripture to Jesus, but he didn't live it. Sounds like many folks who call themselves believers today. They say "Bless God" but they don't truly bless Him with their lives. When you bring them a true word from the Lord they are offended. Kind of like a warm front meeting a cold front. Boom! Then they often run around behind your back telling everyone you are religious.
There is a solution however.
Jesus is my storm shelter
If every time we are offended, or busy or overwhelmed, or our feelings are hurt, or we are scared, we run to Him, and I mean run TO HIM. We will be safe. He has to be our front and center, our stable place, our security. Run to Him first. Run to Him before you to run to others to complain or badmouth someone or gossip. Run to Him and ask Him to search your heart. Run to Him and ask Him to remove fear. Run to Him and ask Him to schedule your day. Run to Him first.
And then everything else will fall into place.
Have a blessed Monday