Freebie in my bookstore today!
Friday's Freebie is here!!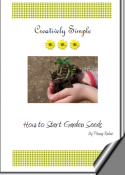 Creatively Simple – How to Start Garden Seeds
There is something so satisfying about growing your own plants, and it is even better when you start the seeds yourself. Starting your own seeds is really simple and very economical. In no time at all you will be walking through your own garden reaping the rewards of your efforts while communing with God.
Come along and join me on my porch as I show you how to do it.
This book covers starting seeds to plant in garden. It touches on sprouting but if you want to sprout your seeds before planting you need the Creatively Simple – How to Grow Sprouts in a Jar ebook.
This is just one of a series of Creatively Simple "How to" ebooks approx 27 pages with lots of pictures ebook download
a very detailed How To ebook with step by step instructions and lots of pictures
Freebie in my bookstore today!
And there are also 3 books on sale, take a look.