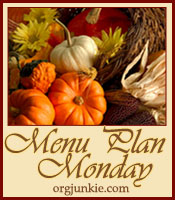 For my Menu Plan Monday post January 31.
I have lots more recipes posted at my recipe site .
Well we still have lots of winter left but the last few days have been really nice and have us in the mood for fun meals

. I will be giving away a freebie in my bookstore each week, and often they are cooking ones, take a look.
Monday-  baked potato feast
Tuesday-  hubby's birthday sooo …. birthday pizza party
Wednesday-  stuffed quesadillas
Thursday- snow again so time for  homemade clam chowder
Friday –   spaghetti and garlic breadsticks
Saturday –  bean burritos