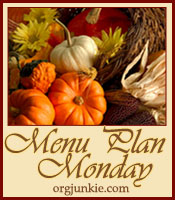 For my Menu Plan Monday post December 6
I have lots more recipes posted at my recipe site .
Well we could sum up this coming week by saying , bbbbrrrrr. And the menu could just say, soup, stew, soup, stew, chili. But I will try to get a bit more descriptive

. My huge cookbook sale ends today.
Monday- creamy cheesy potato and broccoli soup my new fav
Tuesday- spaghetti feast
Wednesday- southern chicken and dumplins
Thursday- beef stew and homemade bread
Friday – chili for a crowd
Saturday – holiday turkey dinner – no holiday here just cooking it for a new Creatively Simple how to book