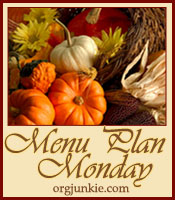 For my Menu Plan Monday post October 18
I have lots more recipes posted at my recipe site .
It is overcast a dreary looking outside so it has me wanting soups and stews and other cozy meals

. Due to the dry weather the garden has finished early but we have plenty of goods in the freezer and it looks like it might rain this week.
Monday- southern style chicken and dumplins
Tuesday-  easy chili
Wednesday-  Hannah's spaghetti feast with garlic breadsticks
Thursday- tacos or chimichangas
Friday –   meatloaf for a crowd
Saturday – beef stew
have a great week! I am having a giveaway contest for some yummy raw honey here and I would be soooo blessed if you voted for me to get this Good Mood Blogger job