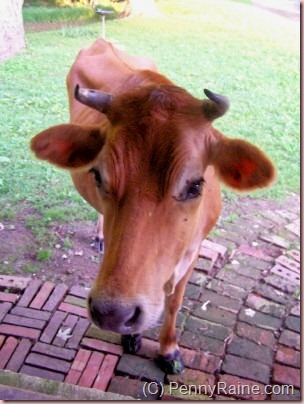 Everyone has heard about your obedience, so I am full of joy over you; but I want you to be wise about what is good, and innocent about what is evil.  Romans 16:19
Meet Dairy Queen. This scripture really has nothing to do with this picture, but while I was looking for the scripture I wanted about being obedient, because she is NOT, I found this one and liked it. Miss Dairy Queen is being a Royal pain in the neck, she will not stay OUT of my front yard, and further more she comes up to the front porch and MMMMOOOS loudly. Silly girl! This picture was taken from my front door. She is now in a pen instead of in the wide open pasture. Hopefully she will learn some innocence about the evils of crawling through fences.

.
We too can learn that lesson. Jesus puts closed doors in our paths for a reason, and when we kick them open we usually end up in some sort of pen of our own.
be blessed on this beautiful Wednesday!
The purpose of Word filled Wednesday is to share God's word (no famous quotes or other literature — only the beautiful word of our Father) through photo's & a Bible verse! You can join myself and others at the Internet Cafe Devotions !