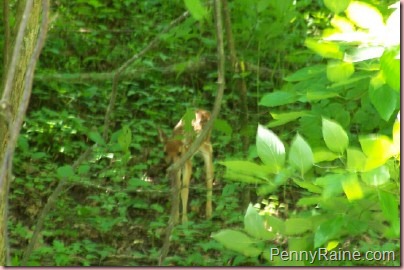 When my spirit grows faint within me,
it is you who know my way.
In the path where I walk
men have hidden a snare for me.

Psalm 142:3
Even at the ripe old age of one week this fawn knows that danger lurks nearby. Yet we often walk through life quite oblivious to it. Men certainly have hidden snares for us. Sin is crouching at the back door constantly. Temptations abound.
There is only one answer. Stay on the path of Jesus. Know His Word and His character and listen to His voice. It is a matter of life and death.
The purpose of Word filled Wednesday is to share God's word (no famous quotes or other literature — only the beautiful word of our Father) through photo's & a Bible verse! You can join myself and others at the Internet Cafe Devotions !