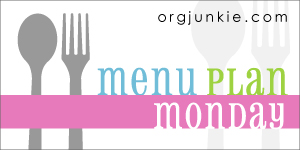 For my Menu Plan Monday post May 3,
I have added several new recipes at my recipe site .
We had a wild weather weekend here. I will be sharing about it so stay tuned to my front page.
Monday- jalapeno chicken and rice
Tuesday-  stuffed quesadillas
Wednesday- beef hoagies on homemade bread
Thursday-  baked potato feast
Friday – spaghetti and garlic bread
Saturday – gourmet salad bar
If you enjoyed this post, make sure you subscribe to my RSS feed!