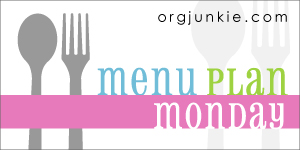 For my Menu Plan Monday post April 26,
I have added several new recipes at my recipe site .
I have a busy week planned so stay tuned to my front page. We are having a low grocery budget this week, which isn't really too bad because I stay well stocked but thought I would bring out the budget recipes to go along with it.
Monday-   ground beef gravy over potatoes and salad on the side
Tuesday-  gourmet salad with veggies and chicken in it, and homemade rolls
Wednesday- budget ground beef stroganoff
Thursday-   beans and cornbread and homemade coleslaw, will try to get this recipe added 🙂 or maybe southern chicken and dumplins
Friday – budget fajitas
Saturday – layered bean and rice dip with chips, will try to get this recipe added 🙂
some other budget meals might include breakfast for supper, egg sandwiches, anything with potatoes or pasta as a main ingredient, or anything you have an abundance of
Hope you are having a blessed week.
If you enjoyed this post, make sure you subscribe to my RSS feed!