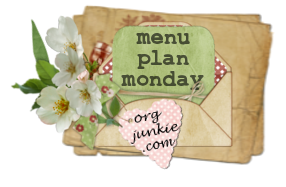 For my Menu Plan Monday post April 5,
I am adding more of these recipes at my recipe site .
Here we go, we are smack in the middle of birthday row. We have had two and two more to go. I have several new recipes to add to my recipe site as soon as I can get Georgia and I still long enough. And yes I think we will be doing a detailed Georgia's favorites Mexican "How-to" cookbook soon. I gave away a $75 gift certificate and have more to do. I am bringing back my cookbook specials for the week and more, stay tuned to my front page.
I guess it looks like Mexican week.
Monday- stuffed quesadillas
Tuesday- tamales
Wednesday-  chimichangas
Thursday-  southern chicken and dumplins
Friday – layered fiesta casserole
Saturday – Mule Day, turns our county into Cowboy Town, you have to experience it to know, and probably a cookout