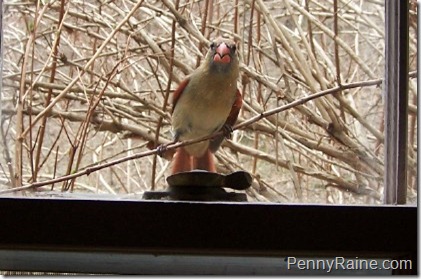 No one will be able to stand up against you all the days of your life. As I was with Moses, so I will be with you; I will never leave you nor forsake you. …… Joshua 1:5
The Lord always knows what we need and when we will need it. For the last 6 years there has been a Red Cardinal at my bedroom window. Sometimes it is a female like in this most recent picture, and other times it has been a male. They will be there daily pecking at my window for months, then they will disappear and a new one show up. Sometimes there will be a couple months in between. However every time a new one shows up it is at a time when I need the Lord to tell me He loves me. Of course I know He loves me and I never doubt that, but putting a beautiful bird at my bedroom window, one that greets me each sunrise is like getting a bouquet of flowers handed to me by Jesus himself. It is personal. We serve a very personal God. If we get personal with Him He responds by getting personal with us. This little bird is known as , "Mommas bird".
The purpose of Word filled Wednesday is to share God's word (no famous quotes or other literature — only the beautiful word of our Father) through photo's & a Bible verse!
You can find McLinky at our hostessSusan @  http://susan2956.blogspot.com/