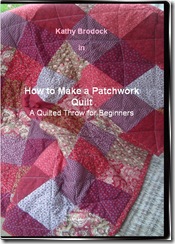 I love getting the mail. I have such wonderful friends that I get good stuff. Not jut on my birthday either, but all the time. Yesterday I got the new DVD from Teaching Good Things.
Oh what a treat it was. This one is called "How to Make a Patchwork Quilt". Now y'all know I already know how to make a quilt because I told you all about making a quilt for my grandbaby before she was born. I even showed you pictures. However I would not call myself a pro at quilt making and even if I were we can always learn something new. So anyway I could not wait to pop in this DVD, literally it was in ten minutes after I walked in the door. I was not disappointed. I can honestly say I love anything taught by Kathy Brodock. She is a very gifted teacher. She makes things look do-able. After watching this DVD I had learned something new, in fact several things, and I was inspired, and I wanted to make a quilt!
She begins with choosing fabric, boy am I ready for that one, I have so many bins of fabric scraps we cant figure out where to put them all. The next part was something new for me though, cutting with rotary cutters. now I have used them before but as efficiently as she showed, and now I know why. I have always kind of done things the old fashioned way until someone could show me why I needed new tools. Well Kathy showed me, she used the cutter, clear rulers and a cutting mat. I will be adding the supplies she suggested, not a lot but just the few she suggested, it will make a big difference next time we quilt. As far as piecing the quilt, she had good suggestions there also. When putting it together she again showed me something new using basting spray. When she came to the binding she showed two different ways of doing it and again I learned something new. The quilt she made looked easy enough and it as beautiful
I love the way these videos are put together, very professional and yet personal. You feel like Kathy is in your living room. She has a VERY pleasant voice and explains things well, the videos are easy to follow. And I also like the soothing background music in between chapters. All around I give this a 5 stars! Yay! I loved her other videos too and we have gotten together to give you a special treat

. She is making available her three teaching videos below all at a special discounted price just for my friends :), yep that's you!
Basic Cake Decorating DVD
Learn How to Crochet DVD
Make a Patchwork Quilt DVD (even this the new one!)
you will need to visit this special link for the code discount for Penny's friends
I am so blessed with good friends!
PS, the special discount is only good for one week starting today