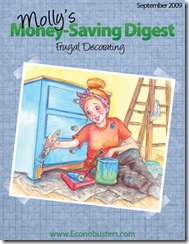 It isn't fall yet but it sure feels that way around here. Molly Green is all ready for us with this months Digest from Econobusters. I just got the new September edition and it is bursting at the seams with good stuff just like a harvest basket! There is everything from recipes to grocery savings tips, to incredible decorating ideas that won't cost a dime. I plan to go out in my woods tomorrow and cut me down some grape vines to dry and decorate with.
One of my favorite parts of this month's digest was that I absolutely loved how I was shown the dining table and chairs makeover. It looked so simple. I love before and after pictures with a project. I am one who loves my home and enjoy new ways of making it cozy. I also really liked the painting technique that made the old armoire look antique. I always wondered how to get that look. Now I know and you can too!
This whole digest says, "cozy home" and even has a quick and easy recipe for cheesecake. What more could we ask for in September?