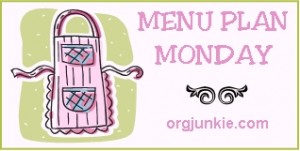 For my Menu Plan Monday  post, I got potatoes on sale this week, 20 pound bags for $3.99, I bought 3 of them,  we can eat a lot of potatoes easily 7 pounds a meal. We have a freeze warning Monday and Tuesday night, so the garden will be done whether I like it or not. And with the cold weather comes some new things.
Monday- southern chicken and dumplins with red and green bell peppers (anybody noticing a trend here?)
Tuesday- cheesy potato soup (with peppers)
Wednesday- cheeseburger casserole
Thursday- chili rellenos
Friday – stuffed baked potato with steamed broccoli, cheese and sour cream
Saturday- jalepeno chicken and rice 
chili soon, would you like my recipe?
take a look at my front page I have a huge sale going on, tons of giveaways this week, and new books in my bookstore 
don't miss a thing  
Subscribe in a reader