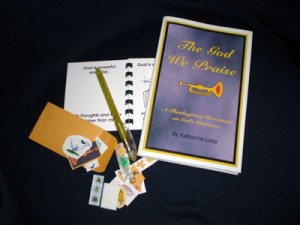 Our Thanksgiving devotional, The God We Praise. The devotional retails at $13.99, plus $3.99 for each additional child who wants to make the little booklets that go with the devotional. We'd find out how many children the winner had and mail them the devotional and any child supplies they need so it would be totally free. 
you can thank Katherine Loop at Christian Perspctive  
Christian Perspective is a family ministry dedicated to encouraging families through a variety of methods, including resources, free monthly e-mail newsletters (containing a short thought, story, homeschool tip, and hymn/poem!), free online articles, e-mail/phone support, and speaking engagements. Our mission is to help families "Seek the LORD, and his strength" (Psalm 105:4) in every aspect of life.
For each contest the rules are the same, please place each entry as a separate comment
 visit the site, come back in a comment and tell me your favorite item from that site.
if you share about the contest on your blog come back and leave another comment telling me you shared and the url.
you may comment again for another entry if you subscribe to my feed
you may comment again for another entry if you use the "share this" link and tell me where you shared
you may comment again  for another entry if you follow me on twitter

http://www.twitter.com/pennyraine

you may comment again for another entry if you add me as a friend on facebook, Penny Raine

penny@awesomeglory.com

you may comment again for another entry if you tell me what is your favorite item in my

Stop the Stress Sale
you can have up to 7 entries on each contest, boy am I going to be busy

 All contests will be closed Oct 31 at midnight. Winners will be picked randomly on Nov 1 and will be announced by Nov 3rd. Please please please, subscribe to my feed for this week, I sometimes have the hardest time getting ahold of winners especially in a give away this big. You can unsub later if you want, I promise I won't get offended. Complete give away details here
don't miss a thing  
Subscribe in a reader 
 Stop The Stress Fall Blessing Sale